HotSpot TX 2 Seat Hot Tub
Slim profile tub
With its slim profile and unique shape, the HotSpot® TX hot tub can fit into many spaces.
In-Line Sanitising System
Bromine cartridges give up to 3 months continuous cleaning reducing the need for chemicals and is kinder to the skin.
The TX Hot Tub
Simple to use you will be enjoying the benefits to your body from a HotSpot® hot tub in not time. Sit back and let our TX hot tub give you a spa experience to remember. HotSpot® hot tubs are all about simplicity. Electronic controls mean you select the desired temperature using the backlit display panel or the optional IQ 2020® remote control. Just set it and forget it.
The insulated foam shell and vinyl cover help retain heat to keep energy costs low, and the integrated filtration system keeps the water clear and fresh with minimal effort. For a more natural water care, you can always add the optional FreshWater® III ozone system.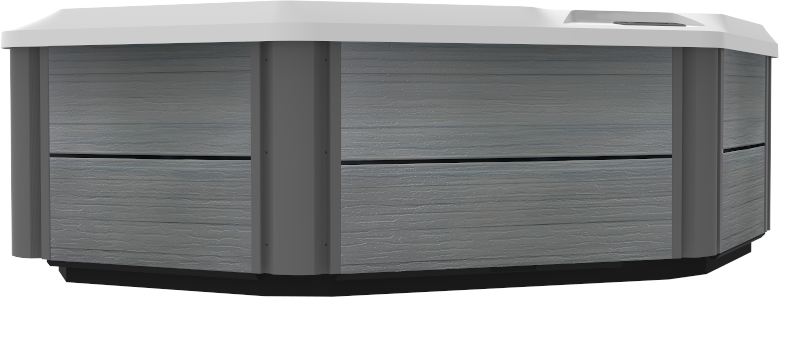 Seating
2 adults
Total jets
11
Dimensions
1.83m x 1.83m x 0.74m H
Water capacity
720 litres
Dry weight
240 kg dry
Filled weight
925 kg filled
Lighting system
Blue dimmable LED light included, Splendors multi-colour LED light system optional
Control system
IQ2020® 230V/16A – 50HZ
Jets
1 Moto-Massage® Jet
1 Rotary Hydromassage Jet
9 Directional Precision® Jets
Jet pump
Wavemaster® 4000 – Two speed, Continuous Duty 1.0 HP, Breakdown Torque 1.7 HP
Circulation pump
SilentFlo 5000 (optional)
Water Care system
Frog In-Line Cartridge Ready
Effective filtration area
30 sq feet, top loading
Cover colours
Nutmeg, Stone
Insulation
FiberCor
Heater
No-Fault® 2kW/230V